New R.S. Hi-Fashion Bangladesh is very much keen about the product quality. It's efficient quality control team involved in pre-production inspection of fabrics, accessories, patterns and samples, they are also involved in inline-production inspection as cutting, sewing, trimming, ironing, packing, post-production inspection of assortment wise stacking, shipping mark or labeling, stuffing etc. We always Assures you a very higher equals standard of quality and performance. Beside daily inspections by regular quality control inspectors, our qc managers conducts very frequent random inspections for each order or style along with a final inspection on prescribed form which may sent to buyer on demand and based on these report inspection certificates issued.
Our infrastructure is facilitative, strengthening and supportive. To keep abreast with the latest in fashion world, we possess a well equipped production, backed by hi-tech machines and latest technology. We have a retinue of modern machinery. It consists of high performance Multiple Needle Machines and Tufting Machines.
Alongside, we have highly trained workers. We are also equipped with capacious warehouses that facilitate storage of voluminous stock to meet all kinds of demand eventualities.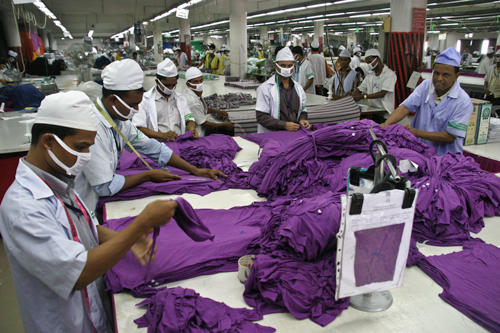 The latest machinery and well trained manpower ensure that our customers get true value for their money. The transparent and professional management system and well delegated power structure enables swift decision making at all levels.
Our team of professionals are highly motivated to carry out its job in a perfect manner that leads to the overall progress of the company. We have a a team of designers which is engaged in designing dresses that are a fusion of modern style and traditional look.
We realize quality apparel, and garment quality control is eventually a question of customer fulfillment Good apparel quality control increases the value of a product or service, establishes the brand name, and builds up good reputation for the garment manufacturer or retailer, which, in turn, results in consumer satisfaction and higher apparel sales. The perceived quality of a garment is the result of a number of aspects that together help achieve the desired level of satisfaction for the customer. Therefore apparel quality control for garments; pre-sales service, post-sales services, delivery, and pricing are essentials for anyone in the industry.